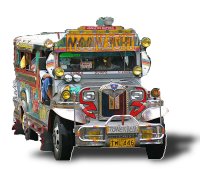 So, if you've been following along, you'll remember that the villain of the last piece, Smart Telecommunications — wait, let me try that again — "Smart" Telecommunications, have a sub-standard internet service. I also have my mobile phone account with them, which could come under the category of having all your eggs in one basket.
3G, doesn't work. That's pretty much it. For the first three months I was here, whenever I was at home, I couldn't make or receive calls, or send or receive SMS. If I stepped out of the building and into a different cell zone, everything was usually dandy, but at home, where I spend most of my time, nothing. I spent two months complaining several times a week at their office and over the phone. However both these approaches were fraught with difficulty – in their offices the 3G signal was perfect, of course, and to complain from home … well its pretty hard if your phone doesn't work. My girlfriend's phone (also a Smart subscription) also didn't work in my apartment despite both phones having a 5-bar signal.
Eventually they'd start to acknowledge that perhaps there might be a problem. I could have worked around it by simply turning off my 3G signal, but unfortunately my phone is one which will auto-switch to a 3G network if it sees one. They sent me to Sony Ericsson to get the firmware upgraded to the latest version, which I did. Unfortunately for SE, just before I paid the P 600 fee for this, I asked what the latest version of firmware was. They checked my phone, and told me "Whoops, you're already running the latest version" Well at least I saved myself P 600.
So things did actually improve eventually. I don't know what they did, but now I can send and receive messages and calls most of the time. There are still areas in Manila where I go through a bad patch, and my girlfriend has taken to carrying two phones — a spare with a Globe connection — for those times when she has no signal. However its hard to determine when this is, as the phone will happily report a full signal while refusing all calls.
Broken. Am I beginning to sound like a whinger? I haven't started yet …